August 20, 2020
Provider Inspections Returning
The Centers for Medicare & Medicaid Services announced that routine inspection of all Medicare- and Medicaid-certified providers and suppliers will resume in order to improve the safety and quality of life of patients and residents. Find more details here.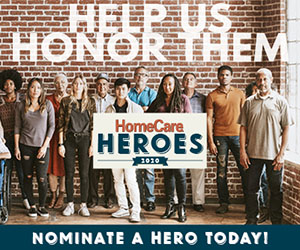 Sponsored by Change Healthcare
5 Opportunities to Help Improve Business Efficiencies and Revenue
Your staff needs timely information, visibility into the revenue cycle and advanced tools to make your business run efficiently. Read about a tool that can help you overcome five common challenges to optimize revenue and patient satisfaction.
A New Act for Telehealth
The Protecting Access to Post-COVID-19 Telehealth Act was introduced by the Congressional Telehealth Caucus, a bipartisan group of representatives on July 16, 2020, to help protect providers and patients who have benefited from telehealth services during the pandemic. Here's what the act protects.
Please note: You may be on other email lists and may continue to receive messages not related to HomeCare Now.
Unsubscribe from other lists individually. The reply-to mailbox is not monitored.

Our email practices are designed to comply with the EU's General Data Protection Regulation (GDPR) and other privacy laws around the world. Read about HomeCare's data privacy policy online.